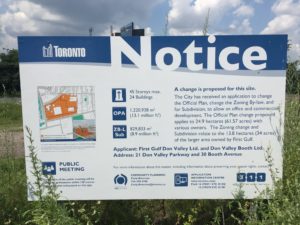 Well it's been quite a few years already since the picketers of the old Unilever soap plant held their picketing signs in a contract dispute, one that never really materialized resulting in the end of an era. The contract dispute was the beginning of the end for this iconic soap plant that resided in the Portlands for over 100 years and has been out of service for about 9 years now. The reality is that inflation and rising real estate values brought this business to its knees.
The property now owned by First Gulf is currently under an application to develop this parcel and bring a major contribution to the east side of Toronto. The site is comprised of 61.57 acres with various owners to develop 24 buildings with a maximum height of 45 Storeys which would bring many welcoming amenities and living situations throughout and the most important element to this project would be a train/TTC station supporting the downtown relief line that has been talked about for many years now.
In addition to this great project it will connect to the Riverside community and bring life to the lower east side, offering parks, transportation and cleaning up the lower portion of the Don River that has been neglected for so many years. The river will also be brought back to a more natural state being straightened to flow out to the lake which will also help with the flooding this area has endured for so many years.